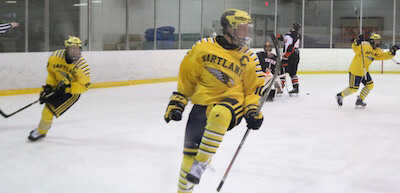 PLYMOUTH — Hartland hockey coach Rick Gadwa was looking for any advantage for his team going into Saturday's 10 a.m. Division 2 championshlp game at USA Hockey Arena.
So he rented rooms for his Eagles, and they spent the night at a hotel adjacent to the arena on Friday night.
The way he figures it, his players will get an extra 90 minutes of sleep.
"I think 10 minutes of sleep is important," he said. "If we were at home, we would be getting up at 5:30, get on the bus at 6 and ride here to the arena. We're all set up in our conference room and will be ready to go."
The game will be broadcast at 9:50 a.m. on The Livingston Post. 
The Eagles and Trojans have met several times over the years. Trenton beat Hartland for the 2014 title, 8-3, but the series has tilted in Hartland's favor in recent years, with the Eagles winning at Trenton 3-2 a little over a month ago.
"They're a scrappy team," Gadwa said. "They're a team that plays with a lot of energy. Chad (Clements, Trenton's coach) is an energized coach, and it boils down to his team in a positive way.  He's done a great job there. It's a team where if you don't start on time, like we've been talking about, if you don't show up, they're gonna nip ya. A team I would just describe as energetic and always coming."
The Eagles are coming off another dominating postseason performance in Thursday's 9-1 win over Forest Hills Northern-Eastern in the semifinals.
"Thursday night, it really started clicking for us," Gadwa said. "It's about building on that. You've got one game left. Repeat what you did before and add a little step up and things are going to look good. If you want to sit back or take any steps down, then you're questioning yourself."
At this point, he said, it's up to his players.
"I think a lot of it (today) is just preparation," he said. "It's experience. It's all the things you work on the entire year and hope it all comes together for one game."
Gadwa, a Hartland grad, says the excitement is growing even among the coaching staff.
"When you start to sniff this kind of stuff, when you get to the final four and the final, it's a whole lot of extra special," he said. "It's something you don't take for granted. Now we're trying to seal the deal."